The Multimedia Lab in 135 Jones Hall was closed over the summer for some major renovation.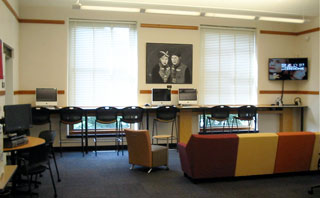 The updated Lab is now open and offers the following new amenities:
Two lounge areas in which to relax, work, study, read, or watch multilingual TV


A "bar" where laptop and tablet users can work, charge their computers, and print directly to the laser printer


Six-sided worktables with 19 PCs and 14 Macintosh computers


Multiple areas for language-related DVD/internet viewing


A small room for collaborating, video viewing, using the flatbed scanner, and more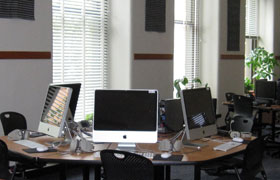 As before, the Lab offers high-quality, low-cost laser printing; computer use for 30 seconds or 3 hours; and of course, friendly and helpful assistance from Lab attendants.
The Lab is open Monday-Thursday 7:45 a.m. - 7:30 p.m., and Friday 7:30 am - 4:30 p.m. We look forward to seeing you soon.