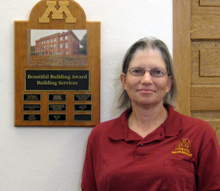 FM custodial staff person, Bette Durst, has won this year's Beautiful Building Award for Jones Hall. This is a very competitive competition -- think of all those buildings on campus -- and Bette, for her work at Jones, was selected.
Thanks to Bette, Jones Hall is always clean, clutter free and functioning well. Bette has gone beyond fulfilling the basic requirements of her position, communicating regularly with Language Center staff about potential issues and building concerns. In the years that she has been assigned to our building, we have viewed Bette as a true partner, and we know that she cares as much about our space and users as we do.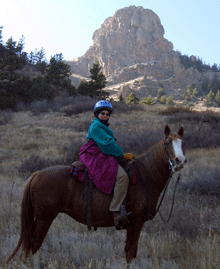 So we congratulate Bette for winning this well-deserved award. We have been nominating her every year since 2006. We are glad that this is finally the year that her hard work, dedication and service to Jones Hall and the University of Minnesota has been acknowledged.
We are also saddened to report that Bette will be moving on to a new assignment in the Health Sciences buildings and leaving Jones Hall at the end of this week. We will miss her very much and wish her the best of luck on the other side of campus.
We also wish her many more enjoyable hours of vacation, where she can get the chance to spend some time riding her horse.