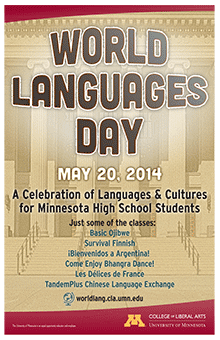 World Languages Day (WLD) at the University of Minnesota continued its tradition of success with the eleventh annual event, held on May 20, 2014. This year more than 1000 enthusiastic students came to campus from 23 schools from near and far. One teacher commented:
"This is a great opportunity for students to have. Many of my students are never in the cities and it is good for them to get out of their comfort zone... My rural students need this experience so much!"


Students voiced their appreciation for meeting new people at the event as well, stating that the event was
"very fun and I enjoyed the campus and attending these classes with other schools.
"
This year's event brought some exciting new changes. The beautifully remodeled Northrop Auditorium was well received as the location for Welcoming Remarks. Having an auditorium large enough to seat all attendees at the same presentation created a sense of community for the event. One teacher commented,
"I like that the entire group of participants were seated together rather than split into smaller groups."
Additional spaces in Northrop were used for informational college-readiness and Admissions sessions, and a few language and culture classes. Guests at the event were very impressed by the beauty of this newly-reopened space.
This year's World Languages Day also featured an expanded emphasis on heritage and immersion language learning. The event featured a greater number of classes taught in the target language for learners studying Chinese, German, and Spanish. Additionally, some new classes were added this year that focused on students' conversational and self-assessment skills. The
TandemPlus
class was a highlight of many students' WLD experience, with one student of Chinese commenting,
"I feel adventurous!"
after participating in conversations with native speakers. The self-assessment classes were likewise well received, with comments such as
"It helped me understand my strengths and weaknesses in speaking French,"
and "
[It is] very interesting to be able to hear your own voice and to assess yourself."
Students expressed enthusiasm for all of the
classes offered this year
and the instructors who volunteered to teach them with comments such as
"I actually want to learn Portuguese in the future because of this class"
,
"I really enjoyed this, the instructor was super nice and now I really want to learn Japanese and go to Japan!"
and
"The teacher was really fun and lit up the room!"
World Languages Day 2014 was summed up best by a student who simply wrote,
"It was great!! Go Gophers!!"