Who are the students working in the Main Office at Jones this fall? Here are some short bios of new and returning staff!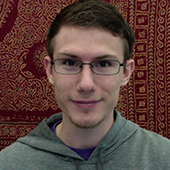 Chris Michaels
Hello! My name is Chris Michaels, and I am from Monticello, MN. I'm a senior majoring in journalism, and I have been studying Japanese for about four years now. Most of my free time is spent watching or playing sports and hanging out with friends.
Hi, my name is Hunter Slack

.

I'm from Vadnais Heights, MN and currently residing in St. Paul. This will be my fourth year at both the U of M and the Language Center. I am a senior majoring in marketing and minoring in design with goals of working in branding or advertising. Outside of school and work I play in a pop-punk band and hang out with my cat Jimmy. I am also a huge hockey fan. Go Wild!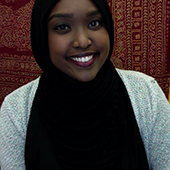 Ibsitue Kadir
Hey everyone! My name is Ibsitue Kadir, and I am working in both the main office as well as the lab a few days a week. I am currently a senior hoping to graduate this spring. I am studying family social science, and I hope to be an elementary school teacher. I was born in Las Vegas, but my family currently lives in Saint Paul. I love to volunteer, especially when it's with children. This is my first semester here in the Language Center.
Hi! My name is Maya and I'm from Minneapolis. I'm currently a Junior at the U and have worked at the Language Center all three years. I'm studying Urban Studies, Youth Studies, and Sustainability and hope to work in some sort of nonprofit or community organization in the future. I speak Spanish and hope to add a Spanish minor to my repertoire as well! I love playing board games, drinking tea (and coffee), and anything outdoors and adventure-y!
Guten Tag! My name is Nick Ott, and this is my third year here at the Language Center. I'm a junior majoring in Marketing and German Studies with a minor Spanish Studies. I'm also a part of the DirecTrack to Teaching program and hope to become a foreign language teacher. I'm studying abroad in Cologne, Germany this spring/summer semester and plan to travel all over Europe while I'm there! In my free time, I like to run, swim, binge watch Netflix, and eat large sandwiches.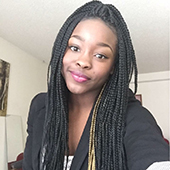 Rachael Falade
Hi! My name is Rachael and I am majoring in Biology, Society, and the Environment (BSE) with minors in Cultural Studies and Comparative Literature (CSCL) and Public Health. I am Nigerian, specifically Yoruba. I do speak the language fluently and am very proud of my culture. I am on the board of Black Motivated Women (BMW) for Marketing and Advertising, and I also work with the University YMCA as a site leader at Sheridan Elementary school. I love spending my free time doing artistic things from music to painting. I gravitate towards relaxing things and love nature and animals. Also, I love to eat, cook, and watch food being cooked.
Hi! My name is Raisa and I'm majoring in Global Studies with a focus in Human Rights & Justice in the Middle East. I am half Lebanese, so French, Arabic, and Wolof (a Senegalese language) were all spoken in my house growing up. I have studied French for about 7 years, and am currently studying intermediate Arabic. In my free time I like to adventure around the Twin Cities, attend shows, and go to concerts at Orchestra Hall.
Nyob zoo! Hi, my name is Shoua Thao and I am a senior this year at the University of Minnesota pursuing a Bachelors of Individualized Studies in Mass Communication, Political Science, and Design minor. As you might have guessed, I am a native Hmong-speaker, and I learned two years of Korean during my first two years here at the UMN. In my free time, I love to play flag football and volleyball and hang out with friends.