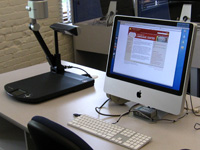 During the months of June and July, the Language Center technical staff has been busy upgrading the LC classroom, Jones 10. The old ASC language lab hardware and PC computers have been torn out and replaced with new iMac computers with the capability of using the Mac DiLL language lab software.
A new 16 x 9 aspect ratio lcd projector has been installed, along with a new keypad to control the projector and select inputs -- computer, multi-zone DVD, multi-standard VCR or document camera. Oh yes, a new document camera has been installed to replace the old overhead projector. Another feature is a handy pocket on the instructor's desk making for easy connection of a personal laptop.
With the conversion of Jones 10, the Language Center now has three classrooms that make use of the Mac DiLL language lab software. Wimba activities can also be scheduled in these three classrooms. Although the computers in these three classrooms are Macs, they all have Parallels installed which allows for simultaneous use of a Windows operating system. (We're still at old reliable Windows XP.)
The Language Center also has a laptop lab cart of 25 Dell laptops which can be reserved and used in Jones 35 Media Classroom. For more information or assistance with the Jones classrooms please contact our Classroom Coordinator,
Alyssa Ruesch.